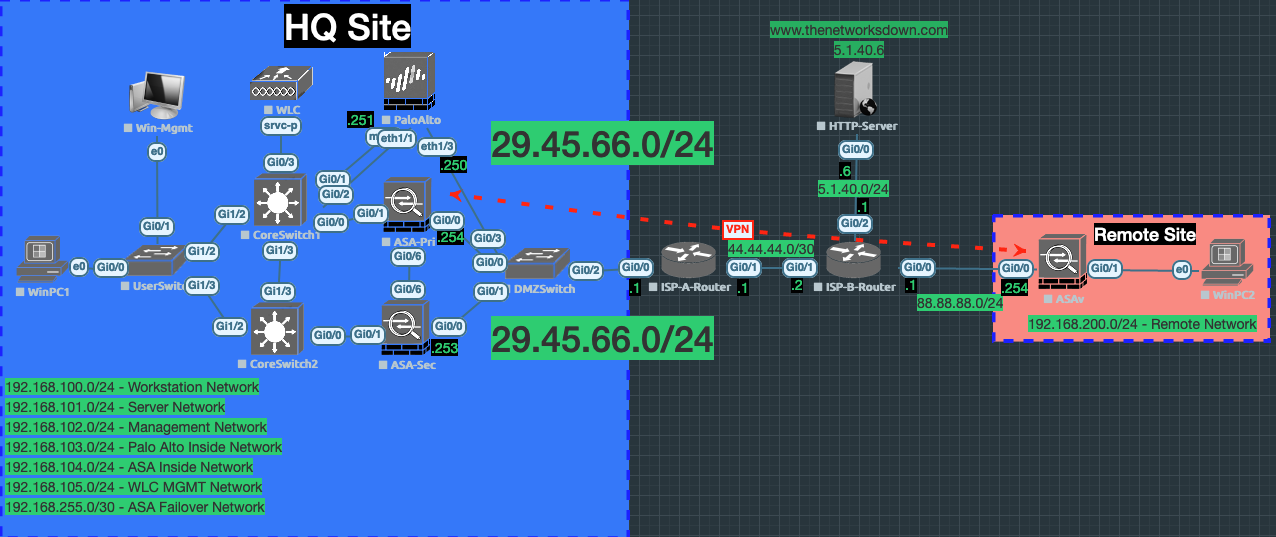 Muy Buenas mi gente! I took a break from studying for the CCDE to wrap up a new Troubleshooting lab for everyone. I went ahead and toned down my original CCIE Security Lab (available here) into a more "palatable version" of a practice troubleshooting lab. The focus of this lab is to troubleshoot an Enterprise Network's cross section for some fun. I built this lab to help everyone asses some "Common Troubleshooting Issues within an Enterprise" that may (or may not) make themselves known at some point in your networking career. I am releasing it for free for everyone in EVE-NG format.
As with my last lab, I've attempted to use the Lab Tasks function of EVE-NG, however, I will also make the Workbook available for download via a PDF on this page as well. See below for the links.
PLEASE READ THE ENTIRE LAB WORKBOOK. The tasks do not need to be solved sequentially, but there are some interdependent faults within some of the reported tickets.
Disclaimer: All of the Public/Private IP space, Public/Private ASNs, Designs, Naming Schemes, Site Locations, Scenarios, etc. that are in use in this topology were selected at random. If any of the information in this lab overlaps with or resembles that of a production network, it is purely coincidental and is not intentional. https://thenetworksdown.com
Again, some boiler plate question answers

:
No, I'm not quite interested in breaking any NDAs and/or losing my certs (most of all my "street cred")… So please, don't ask.
The lab is formatted for EVE-NG.
I have included the Image Names/Versions I used while creating this lab.

I will not

make the Images, BIN files, or any qcow2 files available, Sorry.
Whatever I couldn't grab from Cisco's site, I was able to get from my Cisco Rep.
The QCOW file for Palo came from their support site. Bug your Rep if you don't have access. Or replace it with another FW image you have.
The EVE-NG Topology is available for download here. (Haga clic aquí)
The EVE-NG Image List is available for download here. (Haga clic aquí)
The Task List aka The Lab Workbook is available for download here. (Haga clic aquí)
I hope that this topology is helpful to anyone studying, labbing or simply just looking for a challenge today. Go forth, and have fun!
The "Completed Workbook" with some of answers/commands and fixed faults is also available for download here. (Haga clic aquí)
IronMan51406 aka "the Half-Mad-Titan"… ELALLALALA