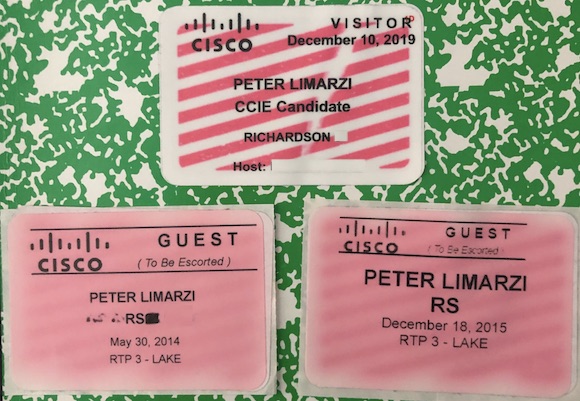 Well… 4 years ago, at just about this time, I was trying to fall asleep at about 8:35pm (when I am writing this)… I was in a hotel in North Carolina and had just faced one of the most enduring exams I had ever been presented with, the CCIE Routing and Switching Lab exam V5 in Cisco's RTP location.  My mind was scattered, I was exhausted both physically and mentally.  I had poured collectively 3 years of my life into this second attempt at taking the lab.  Every time that I found some mental solace that evening, I was jerked awake by my mind wondering if the Networking Gods were smiling on me or if I really should have labbed BGP and OSPF one more time…
I remember, after completing my lab with about 90 mins left, sitting in my rental car and writing out everything I thought I didn't do right. I remember feeling extremely hungry and just feeling a little out of place. So, on the way back to the hotel I stopped to pickup some pizza, and beers.  As I got to the Hotel parcking lot and parked the car, I reviewed the exam internally and started recalling the point tally I had going for each section and I said "man, we may actually have a chance at this".  I didn't fuss much while having a beer and some pizza, saying "well, let's see what happens".  I reached out to a few people just to pass the time and I finally passed out around 8pm or so. Some time later, I woke up around 10:30pm and got the email telling me my score report was ready and to login to check the results. I clicked the link and while the page loaded the familiar feeling of uncertainty and defeat re-entered my entire body as the page asked for my CCO and password.  As the portal loaded I thought to myself "well, we gave it everything we could. Maybe I just wasn't good enough to be part of the group with the rest of the CCIEs out there."  The page loaded and my subconscious saw the result, I clicked the result and waited for the confirmation page to load.  I must had read it 20 times.  "Your CCIE status is Certified (CCIE# 51406)".  Surely I was dreaming.  I immediately started doubting myself internally w thoughts.  This couldn't have been little old me.  I think they made a mistake.  I did it? I really did it! WTF. This is FRIGGIN SICK… WHAAAAAT?? ELALALALALAL…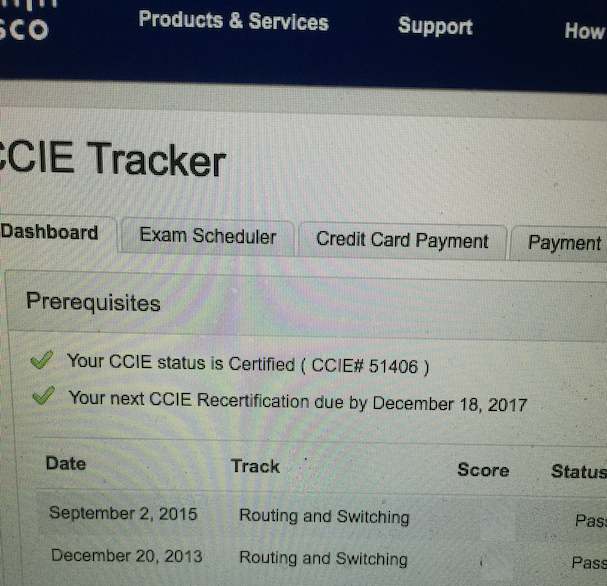 Apparently, I started to vocalize some of those thoughts as when I arrived in the lobby I heard the reception desk asking me if I knew who was in room number YYY making "all this noise".  I was on my cell phone with pops to spread the news of my passing of the lab on my second attempt (hmm, I think this same scenario in Texas seem to have unfolded about a week ago).  I was now something that I had only read about.  I was someone who was able to hold it together and get all of their engineering out before them into a rigorous set of requirements to a set pre-defined tasks.  I immedialty remembered the conversation I had with one of my co-workers Big Bobby Peeps in Irvington. Remember that dude? I said "Yea you have to fly somewhere to take the lab. What kind of lunatic would do something like that? No thank you!" Lol…
As I sit here, four years later, many keystrokes/certifications and exams later it still feels surreal.  I have come a long way from bargaining on eBay for 10/100 switches in 2005 to today (hosting a massive topology on EVE-NG full of 90 day trial of appliances and devices).  So how did this happen?   How did I get from an uneasy entry-level helpdesk staff to a senior network/datacenter/security/omg-just-make-it-work engineer that I've become today? 
I've thought about this for a bit.  I think it's a combination of will, perseverance and dedication (with a side of luck and blessing).  Step one, LEARN the content.  Then, really learn it.  Then after you know it… Really know it.  Make it so familiar that you roll your eyes when you think about it.  Say to yourself "dude… no one cares about how a mac address is stuck into the cam table as dynamic after being learned on a non sticky mac port and then produces and ARP entry at layer 3 for resolution for an IP".
I can't believe 4 years has gone by.  So much has changed in the industry and in my life.  I left the MSP life for a fan-freekin-tastic Enterprise.  I kept getting told how bored I was going to become… And I am now one of the two lead infrastructure engineers planning our second corporate merger/absorption between our combined 14 sites… Where we are now dictating policy in: networks, data center, systems, security and infrastructure as whole.  I really do love what I do.  The fact that I am part of an "advanced support team" (that phase was coined by my brother) just adds awesomeness to the pot.  I came from a PC support root system of knowledge, then grew into a helpdesk analyst, who was upgraded to a systems guy… So seeing not only how everything interacts with the networks that I design, engineer and administer every day, but draw a direct business impact gives me a great feeling of a sense of accomplishment.  That feeling far outweighs all of the stigma of being an engineer, who when you introduce yourself to someone new and who has a small understanding of network engineering is just picturing you dressed in sweatpants in a basement with Cheetos stains on their pants in a dim lit room.  For the record, Cheetos's are great. It gives me such a sense of fulfillment seeing the designs, engineering and hard work of  the entire team translate into a solution for our business.  Yep, we introduced this technology to solve problem X.  Or yep, we saved a ton of opex rolling company B/C into our existing VoIP solution not to mention the circuit consolidation back to our existing paths to the datacenter. 
Whether you're reading this as a technical person or a non technical person, just remember that it may take a bit, but you will find your niche. Once you find it, try to exceed your expectations of what you think you know. Once you get comfortable with that, push yourself outside of your comfort zone. Keep learning, keep trying to grasp a new concept. The following statement is directed to anyone who has asked me or themselves directly "Is it even worth learning this?" You NEVER waste your time learning something new. I'm living proof.